This Leather
Pueblo is a vegetable-tanned square shoulder leather produced by the renowned Tannery Badalassi Carlo. It is distinguished by a deliberately damaged appearance and a one-of-a-kind surface obtained by hand using a special machine. The mastery of the craftsman who works meticulously on each skin allows for the creation of a very unique and highly valued leather.
Badalassi's Pueblo leather is a traditional oiled vacchetta produced in the best Tuscany tradition, which is regarded as the best tanning process in the world.
The colour is Deep green.
For lining, I use Alran Sully Leather, which is made in France and is one of the world's best quality Chevre (Goat) leathers.
It is flexible, highly resistant, and extremely comfortable to wear. Some people use less expensive leather for their lining, but this is not the case. This is top-quality leather used by some of the world's most prestigious luxury brands (think of a brand that rhymes with Herb-mess)
Thread colour and options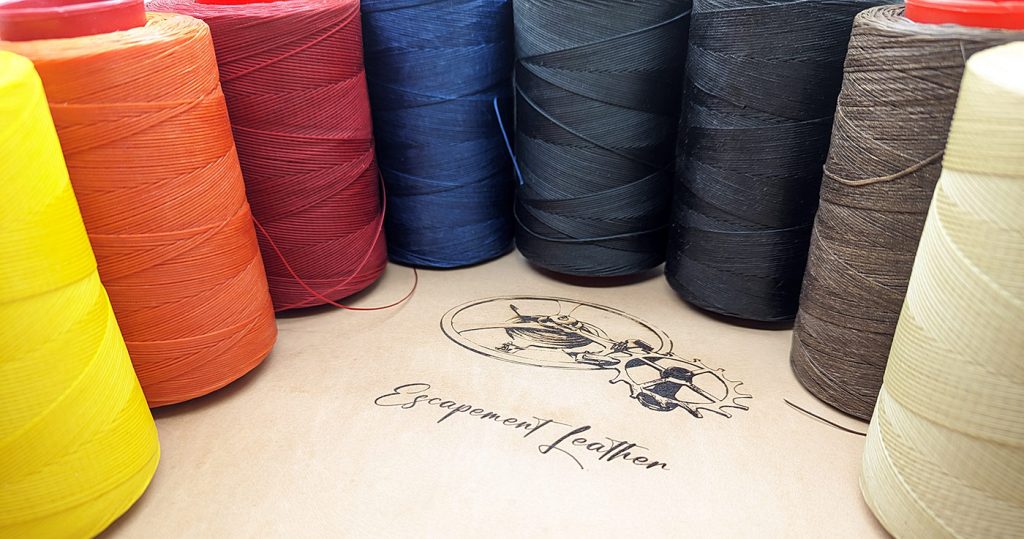 I mostly use Ritza Tiger thread imported from Germany for most of my leather projects. It is waxed and braided polyester, UV resistant, durable and looks very consistent.
It is available in Yellow, Orange, Red, Blue, Dark Gray, Black, Brown and Beige colours.
The only drawback is it's not made in very small size. (I use 0.6mm)
For this reason, I also use Vinymo #8 (0.4mm) Thread which is a good option for a strap at 18mm, or others that you wish to have a finer thread.
Made in Japan, this braided polyester offers the same quality and resistance as Ritza thread, but in a smaller size.
We only have Beige and Black as colour options. Choose the "Thin" option when ordering.
Lugs Width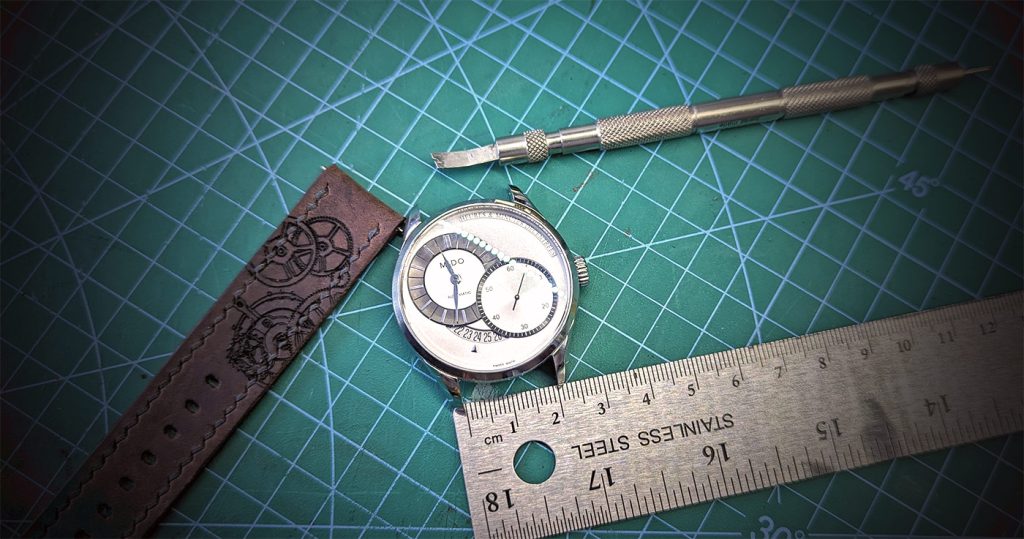 A ruler or a calliper is required to measure the lug width of a watch. The lug width is the distance in millimetres between the lugs' inside edges (the parts of the watch case to which the strap or bracelet attaches).
Examine the back of any existing leather bands for the watch in question to see if there is a size imprint with millimetre measurements.
Otherwise, measure the lug width by inserting a ruler or calliper between the inside edges of the lugs and reading the result. To be certain of the measurement, measure the lug width multiple times. Once you've determined the lug width, you can use it to locate a replacement strap that will properly fit your watch.
If you are still unsure about which size you need, contact me with the brand and model of your watch and I will be happy to help you find what you need.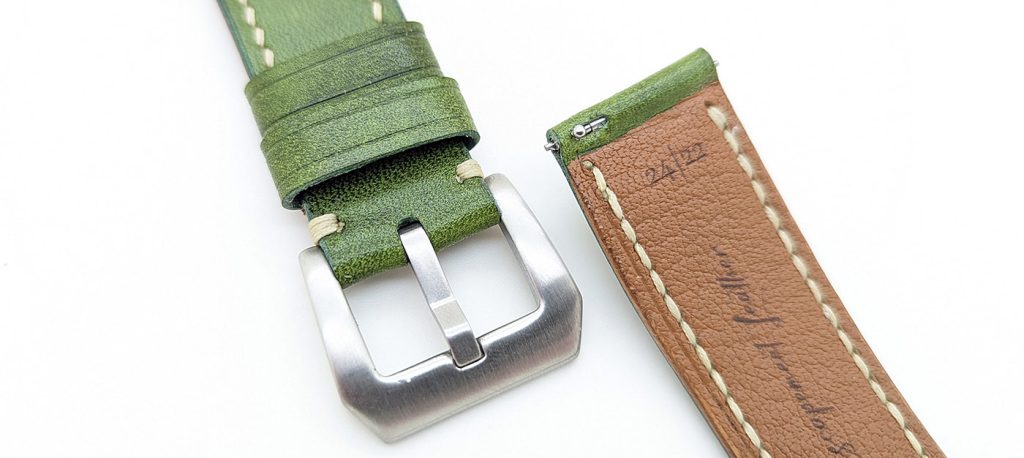 Quick-Release Spring Bar and Stainless Steel buckle included
With a quick-release spring bar, changing your watch strap takes seconds and requires no tools. There is no risk of scratching your watch lug because only your fingernails are required.
If your watch has screw-lugs (like Panerai), you can choose not to have them installed. No hole will be made.
All of my watch straps come with a stainless steel watch buckle that is appropriate for the strap's size and thickness.